We are proud to announce the release of MPlay v3.5beta with UPnP support!
This new version allows browsing of UPnP servers that are accessible to the PhotoBridge. It has been tested with Windows Media Connect, Nero MediaHome, TVersity UPnP Media Server, and TwonkyVision Media Server. Nero MediaHome and TVersity both offer real-time transcoding features that make it possible to playback many natively unsupported video formats on your PhotoBridge via MPlay!
Other updates in this release include:
04/09/06
--------
- Added Extra Large icon view to file browser
- Updated: Optimized smart file list.
- Fixed: Crash that could occur if a smart select folder was "played" before the smart select
         finished scanning the folder.

03/26/06
--------
- Added ability to configure a folder view (icon size, filter, password, pattern) via folder.cfg
- Changed: Default description file changed from info.txt to folder.nfo/<filename>.nfo
- Changed: Moved filtering code into file browser
- Updated: Optimized cover art and description loading in file browser

03/19/06
--------
- Added large icon view to file browser
- Added info display to file browser (looks for info.txt or <filename>.txt in the folder)
- Updated: Delete dialog UI now matches the selected theme
- Updated: Delete dialog now gives option to delete just the selected file or the full sequence
- Updated: Windows system directories are hidden from the file browser

03/09/06
--------
- Updated: Increased speed of FF, REW, chapter, and bookmark skips
- Fixed: Bug that caused a crash when transport commands were sent with no file open

03/06/06
--------
- Added -MenuOnEOF command-line flag
- Added UPnP devices to -browsedir in file browser
- Updated: Audio stream is now remembered for video files

03/05/06
--------
- Added UPnP support
- Added Duration to progress bar when available (DVDs with IFO and UPnP)
- Added Status ECP command
- Changed: ECP forward and back commands now allow specifying a number of seconds
- Updated: Improved handling of HTTP streams
- Updated: "End of File" indication should be more accurate
- Fixed: Bug that would erroneously include some files in a sequence that shouldn't be
Large Icon View
A new large icon view for the file browser can be enabled via the options menu.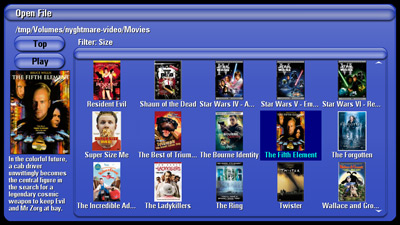 (Click for larger screenshot)
Pressing [Menu] while the file browser is open will cycle through the different views (list view with size, list view without size, and large icon view). The description text (displayed under the cover art) is pulled from a text file in the highlighted folder, and follows the same naming rules as the cover art jpegs. A file with the name "folder.nfo" will display for the folder, whereas a text file with the same name as the video file will display for that particular video file. When in large icon mode, you will need to hit Play/Pause to launch a DVD Smart Select folder (rather than selecting the "Play DVD" button).
Folder View Configuration
MPlay looks for a
folder.cfg
file in each folder to determine how that folder should be displayed in the file browser. In this file, you can specify icon size, filter, password, and pattern match. The format of the file should be as follows:
icons=Large
filter=SequenceSize
password=mypass
pattern=*.mpg;*.ts
Any or all options can be specified.
The acceptable values for
icons
are:
ExtraLarge (extra large icons)
Large (large icons)
Small (small icons)
SmallNoSize (small icons with no size column)
The acceptable values for
filter
are:
All (show all files)
Sequence (show only the first file of sequences)
Size (show only files larger than the configured minimum file size)
SequenceSize (show only the first file of sequences and only files larger than the configured minimum file size)
password
is currently limited to alphanumeric characters only and is case-sensitive. Upon trying to access a folder with a password specified, the user will be prompted to enter the password before continuing.
pattern
should be a typical filename pattern match (*.mpg, *.ts, etc.). Multiple patterns should be separated by a semi-colon. If a pattern is specified, only files that match that pattern will be displayed.
Known Issues
This is a beta release, so you may experience problems other than the following known issues:
Due to either a bug in the PhotoBridge UPnP implementation or a bug in TwonkyVision, some UPnP folders do not fully populate when using TwonkyVision.
Some transcoded UPnP streams can cause lockups/crashes when fast-forwarding and rewinding. In testing, this happened nearly every time when fast-forwarding a transcoded XviD avi using TVersity.
Some HTTP streams report an invalid size which causes the progress bar to display an incorrect value.
Due to the nature of UPnP, file sequences are not supported for seamless playback.
Please visit the website for more details.
This new version is available at the following link:
http://www.permanence.com/MPlay/files/M ... 060409.zip
As always, comments, criticisms, and suggestions are always welcome.
TheEndless and marcelo3d