I've posted a new 3.7b version of MPlay. There are a number of enhancements in this version. Most notable are:
Enhanced Info Display
The stream info now displays cover art, title and description from the .nfo file, and the current file data. This new format is only available if you use a font size of 25 or less. If you prefer the old info format, you can specify -UseOldInfo on the command-line.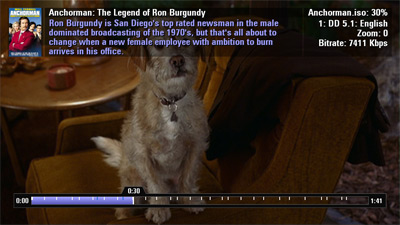 PhotoBridge Specific .mplay Files
.mplay files now store zoom mode, audio stream, and video mode information independently for each PhotoBridge (based on MAC address). This is particularly useful if you have one PhotoBridge connected to a 16:9 set and another connected to a 4:3 set. You can now save zoom mode information for each set.
Additional Folder Configuration Options
DefaultZoom and SortOrder have been added as options in the folder.cfg file.
DefaultZoom
can be set to any of the zoom modes available in MPlay(0-6). Any files without an associated .mplay file will automatically start with the specified zoom mode.
SortOrder
specifies how the contents of the folder should be sorted in the file browser. Available values are:
NameASC (default, sorted by name ascending)
NameDESC (sorted by name descending)
SizeASC (sorted by size ascending)
SizeDESC (sorted by size descending)
ModifiedASC (sorted by date modified ascending)
ModifiedDESC (sorted by date modified descending)
DefaultZoom=3
SortOrder=ModifiedDESC
Additional Info Page of Info Dialog
You can now specify additional information to be displayed on a second page of the info dialog in the file browser. The
MPlay Movie Info File Builder
has been updated to accommodate this information. Essential, any free text lines in the file will be displayed on the second page, which can be accessed using the Zoom buttons on the remote.
Additional updates include:
10/28/06
--------
- Added ISO detection for DVD Smart Select
- Added second page to info dialog (accessed with zoom buttons)
- Added DefaultZoom setting to folder.cfg
- Added SortOrder setting to folder.cfg
- Added -NativeUPnP command-line option to use the Roku UPnP classes
- Changed: File Browser now uses custom UPnP parser for folder enumeration
- Changed: Info display now shows cover art, title, and description from .nfo files
- Changed: .mplay files are only created if the resume point is greater than 5% and
         less than 95% of the total file size
- Updated: .mplay files now have independent zoom mode, video mode, and audio stream info
         for each PhotoBridge (based on MAC address)
- Updated: File Browser now shows the currently highlighted file/folder as part of the 
         path at the top of the dialog
- Updated: Increased responsiveness of File Browser when loading cover art
- Fixed: Bug that could cause a crash from File Browser when certain buttons were pressed
         while a video was paused
- Fixed: Threading issues in File Browser
- Fixed: Bug that broke playback of real-time recordings
You can download the new version here:
http://www.permanence.com/MPlay/files/M ... 061030.zip
As always, let us know if you have any comments, criticisms, or feature requests!
TheEndless