Hi,
I have a Pinnacle SoundBridge Home Music and was very happy to find thakoman's web based remote for the M1001
here
.
Most keys work with the Home Music as well, but I thought it would be nice to have the extra keys, like presets or browse mode as well.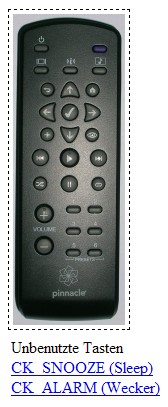 You can download it from
here
.
I put it on my Asus WL-HDD after installing thttpd-php with ipkg, no further settings were necessary, it should run right out of the box. You just need to set your IP in send.php, that's it.
Apart from having all Home Music keys ready at hand, I also used a little trick which enables me to have some kind of "key-buffer". When you click on the image several times, you don't have to wait for the response, because the FORM-targets are invisible frames that are being selected one by one. There are 20 of them, so basically you can hit a key (like Volume Down) up to 20 times and all will be transmitted (sooner or later, depending on the speed of your webserver, my WL-HDD sometimes took a few seconds, but most of the time all clicks were sent and received).
The "purple button" on the remote is set to "Search" function (CK_SEARCH), but you can just edit remote.html if you want any other function like CK_ALARM or CK_SNOOZE of course.
The only thing I'm not really happy with is the image quality. In the manual, there is only an image of the remote of the M1001, so I had to take my own. If you can come up with a better one, I'd be happy to replace it.
Let me know what you think,
Frederik.
P.S.: You might wonder why I use GET-method for form transmission. This is because my Nokia E51 seems not to be too happy with Javascript and sending forms the POST-way (or the way it is coded here). When I changed to GET, all worked fine, with the drawback that all actions are logged in the webserver's log. If POST is not a problem for your "remote device", then just change it in remote.html at the bottom of the file.