What is VisualMR
Use VisualMR to remote control your SoundBridge from any Windows PC. Or better use it on a WindowsMobile device as a
touch-enabled, graphical, wireless remote control
to your SoundBridges.
Highlights
- Browsing by artist/album/genre/UPnP-folder/... as well as full RadioRoku browsing by language/location/genre
- Coverart display (from Amazon or iTunes)
- Lyrics from Lyricswiki.org
- Modify your play queue on the fly: add/remove/move songs
- Works with any Server supported by SoundBridge including Firefly, WindowsMedia or iTunes
- Easy to setup and use
- completely
skinnable
About V2
It took me two years to get release VisualMR V2. Sorry for the long wait. It really was quite a lot of work, especially building a version that not only works just for me but that can be released to the public (let me thank those who donated - otherwise I certainly wouldn't have bothered with this cleaning-up work).
I consider V2 a beta because of limited testing, some minor known bugs and some missing features I planned for a final version. Don't count on a 'final' version soon - I prefer adding new features instead
. For those who prefer final there is still V1.6 but I would really recommend V2(I never used V1.6 for a very long time) and I'm optimistic that all that worked in V1.6 still work in V2.
Some of the new features in V2
- Full browsing of RadioRoku including Radio-Jukebox on PC
- CoverArt from iTunes
- Lyrics for current song
- improved Vista-compatibility (user rights, no need to install .Net)
- fast browsing with improved caching (optional persistent caching)
- play by rating
- more (see version history at my
VisualMR homepage
)
My personal favorite (apart from lyrics) is selection of albums while browsing artists: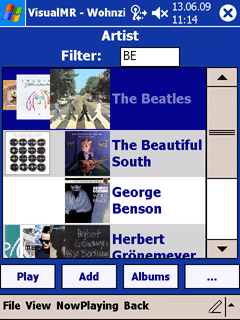 Click on the artist name selects all from this artist (as before) but clicking on a cover will select this album (you can scroll through them by clicking on a cover in the back). Now play at the bottom plays the selected album. BTW: you need to enabled persistent cache for this feature.
And on the PC: the new RadioRoku Jukebox: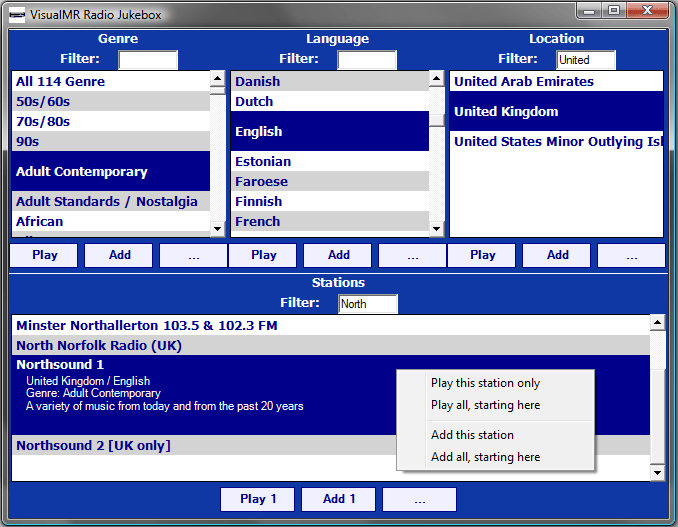 Note about Updating from V1.6
- CoverArt folders have been reorganized so that old covers won't be found (see included CoverArt readme).
- I've moved to .Net 2.0 (or newer) so in some rare case you'll need to install the latest .Net framework (see my homepage).
- V2 requires the current SoundBridge V3 firmware (V3.0.37 or newer)
Download/Description and more
As usually on my
VisualMR homepage
Discussion thread
I started this new thread for V2. Discussion of V1.x please in the
rather long old VisualMR thread