I wrote directions in
another thread
about how to stream Spotify to the Roku, and after several other developments I found it's possible to stream all audio from my PC from any application or website, so I thought I would try to make an illustrated tutorial. For me, this method is really nice because I have a lot of music on my computer that isn't encoded in MP3 format, and there are websites that stream music that isn't in MP3 or for which there is no Roku Channel. This tutorial is for Windows XP and assumes that your PC is on the same network as your Roku. It also works with Windows 7.
I should note that there are links in this tutorial that are highlighted in purple (like "another thread" above). On my browser clicking on the link would take me to another thread or site and I would have to click the back arrow to get back here. If I right click on the link and select "open link in new tab" then I don't lose my place here. Also, the ip examples are not links but this board makes them look like links. I don't know how to prevent that.
The first part will show you how to set up the Roku channel. So, here it goes:
1. Add this channel to your Roku.
2. Enter and exit the channel store on your Roku to update your channel menu.
3. Find out your computer's ip address. Open a command prompt by invoking the start menu, select Run, then type cmd and press enter. The command prompt will appear. Type ipconfig and press enter. You will see something like this: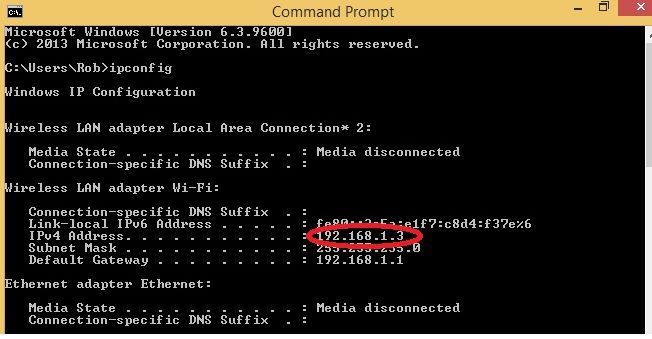 The computer's IP address is circled. Make a note of yours. Type exit and press enter to close the command prompt.
4. Start the Streaming Audio Player channel on your Roku.
5. Click [RT] (the right arrow, >) once then click SELECT (I have the old remote, yours might say OK instead). You will see the current settings.

Click SELECT again to Change Stream URL.
6. Click [RT] once then click SELECT on the selection that says http://192.168.0.100:8080/mp3 below it.

Use the onscreen keyboard to change the 192.168.0.100 in the URL to your computer's IP address (if needed). Do not change anything else. When you are done it should read: http://yourcomputerip:8080/mp3 (substitute the actual ip address for yourcomputerip). At the bottom of the screen click SELECT on all 3 selections in order: Update URL, Set as default, and Done.